This shop has been compensated by Collective Bias, Inc. and its advertiser. All opinions are mine alone. #CreateWithHP #CollectiveBias
With this DIY Back to School Survival Kit in their backpack or locker, your teen will be ready for anything school throws at them.
With school just around the corner it's time to start thinking about getting prepared! In addition to the new clothes and school supplies I'm putting together a survival kit for my daughter as she enters her first year of high school. Whether your child is heading into middle school, high school, or college these few key items will help them survive the school year!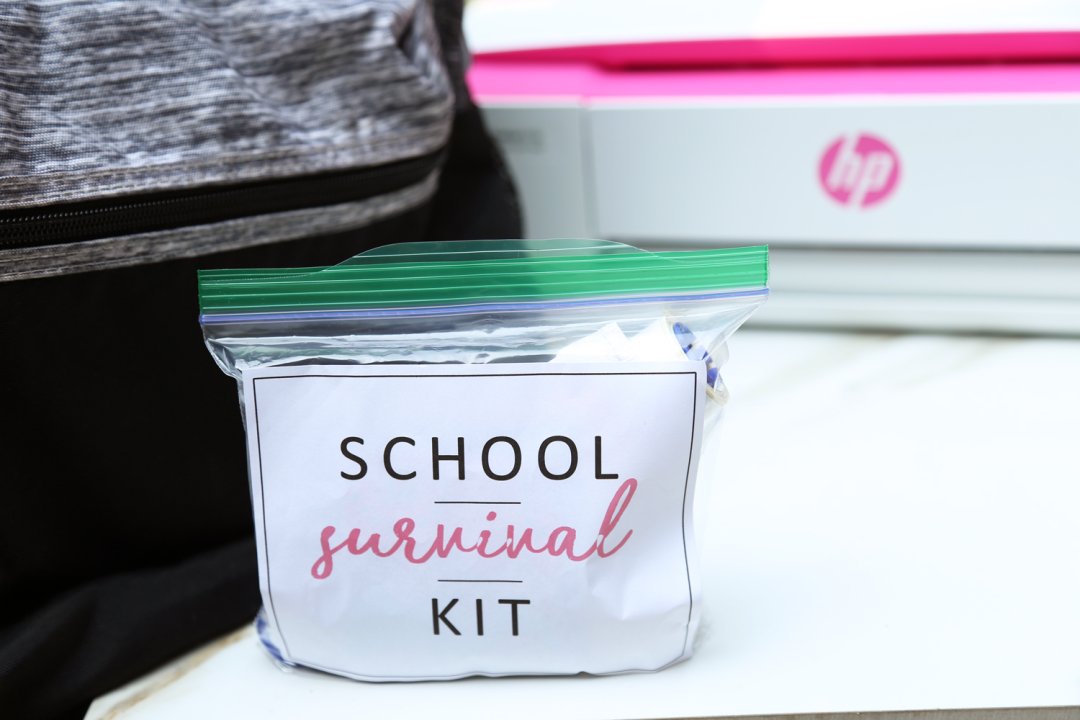 Now that my daughter is entering her Freshman year I feel like I'm somewhat of an old pro at the back to school game, but at the same time as she gets older her back to school needs are changing. She needs new clothes, shoes and school supplies but also more independence with her school work and learning how to get organized. Instead of asking me to help her print a picture from her phone, an assignment for school or a sports schedule I want to help her learn to do these things on her own.
During a quick stop to Walmart I noticed they were featuring the HP Deskjet 3722 All-in-One Printer/Copier/Scanner in both the electronics and back to school aisles. Available in many fun Walmart exclusive colors this printer not only fit my budget but is also the perfect fit for Chayce and her new need for independence!
As the world's smallest all-in-one printer it fits seamlessly amongst all the makeup and the few school supplies on her desk. She loves that she can wirelessly print from either her laptop or phone and I love that she is learning to do these things on her own. If you're interested in learning more about this compact and powerful printer, stop by your local Walmart all month long to catch one of their in store demos.
The HP Deskjet 3722 sets up in minutes and comes complete with everything you need to print.  When we got home we immediately started creating a DIY Back to School Survival Kit. When kept in a locker, dorm room, or book bag for easy access to all the essentials this kit keeps students focused on what's important instead of life's little everyday emergencies that pop-up at school!
Thinking back to my own school days I can recall quite a few cringe worthy moments that could have been avoided if I had a survival kit. Forgetting to put on deodorant or eating something stinky for breakfast OR how about that first day of freshman orientation when my jeans ripped all the way up the backside? Sure could have used a safety pin that day!
To DIY your own Back to School Survival Kit start by downloading the free printable HERE
Click the download button, save to your computer and print on your choice of paper. I used full page labels but you could also use plain or colored cardstock or printer paper.
Simply cut out and adhere to a small plastic storage bag. Or place paper label inside bag.
Then, fill with your choice of survival items.
I've included my favorite items for back to school needs, but there are so many other useful options. Customize your DIY Back to School Survival Kits to fit your unique needs.  Certain ages might require more or less of some items. In elementary or middle school? Best not to give medicine as adults should dispense this to children. Leave medicine to high school or college aged children.
DIY Back To School Survival Kit Ideas (include travel size when available):
Hair Ties and Bobby Pins
Band Aids
Tampons and Pads
Deodorant
Lip Balm
Safety Pin
Nail Polish Remover Wipes
Medicine (Antacid Tablets, Pain Relievers, etc.)
Mini Hairbrush
Compact Mirror
Oil Absorbing Blotting Paper Sheets
Breath Mints
Stain Remover Wipes
Mini Disposable Toothbrush
Dry Shampoo Spray
Lotion
Lint Roller
Granola Bar or other quick snack
You might even make a few extra DIY School Survival Kits for friends or teachers. Students and staff alike are hard at work every day and would love a kit that has everything they need for all situations! Consider buying items in bulk to make it easy to create several DIY Back to School Survival Kits at once.
Looking for other Back to School ideas? Check out this free template for first day photos or this free teacher gift printable!
What are your most embarrassing school memories? What survival kit items would have helped you?
This post was created in partnership with HP. Thank you for supporting the brands that support me! HP Facebook / Twitter / Instagram / YouTube