This shop has been compensated by Collective Bias, Inc. and its advertiser. All opinions are mine alone. #SKSHarvest #SeasonalSolutions #CollectiveBias
Pink Lady Apple Kombucha made with in season apples and fresh pressed cider, is an absolutely delicious way to enjoy this this fizzy probiotic rich beverage.
The drink that I'm newly obsessed with, kombucha, gets a seasonal upgrade with pink lady apples and cider. This flavor combination is a winner.. tart kombucha tea with juicy pink lady apples and not too sweet apple cider is my hands-down favorite homemade kombucha yet.
Kombucha, a fermented sweet tea, fits the requirements to be right on the top of my list of favorite beverages – fizzy, lightly sweet and fruity + the bonus of health claims and caffeine!
I had tried a few store bought kombuchas that I didn't love but once a found a great flavor, I was hooked! For the cost of my kombucha love affair I could have bought a platinum subscription to my favorite winery! I mean, kombucha's good, but wine? Kombucha may have a very very small amount of alcohol depending on fermentation time, but wine it. is. not.
So when my sweet friend recently declared that she was ready to split her scoby and was wondering if I wanted to make kombucha, I of course said yes!
I really had no idea what she was talking about so when I stopped by to pick up my split-of-the-scoby I invited myself in for quick kombucha tutorial.
In its simplicity, kombucha is just sweet tea combined with starter tea and scoby (symbiotic colony of bacteria and yeast) which after 5-7 or so days devours the sugar resulting in basic unflavored kombucha. Traditionally made with black or green tea, I like to experiment with all different varieties of tea… white tea is my favorite because of it's light flavor and extra free radical protecting benefits. Unflavored kombucha can be refrigerated and consumed as is, but I like it best after a second ferment. The second fermentation or flavoring happens when you take already brewed Kombucha and infuse it with fruits, herbs, or flowers. The fruit can be in chunk form, purée, or as a juice and it adds just the right amount of flavor and fizz.
It's this fizz and flavoring infusing fermentation where I get creative with flavoring and bottling.
I like to browse SKS Bottle and Packaging's online store's huge selection of 100% recyclable, made in the USA glass containers for fun bottling options. They have swing top, lug cap or screw on styles in all different shapes, colors and sizes.
I chose SKS Clear Glass Beverage Bottles with white metal plastisol lined lug caps but their crazy huge selection has me dreaming up all sorts of homemade holiday gifts.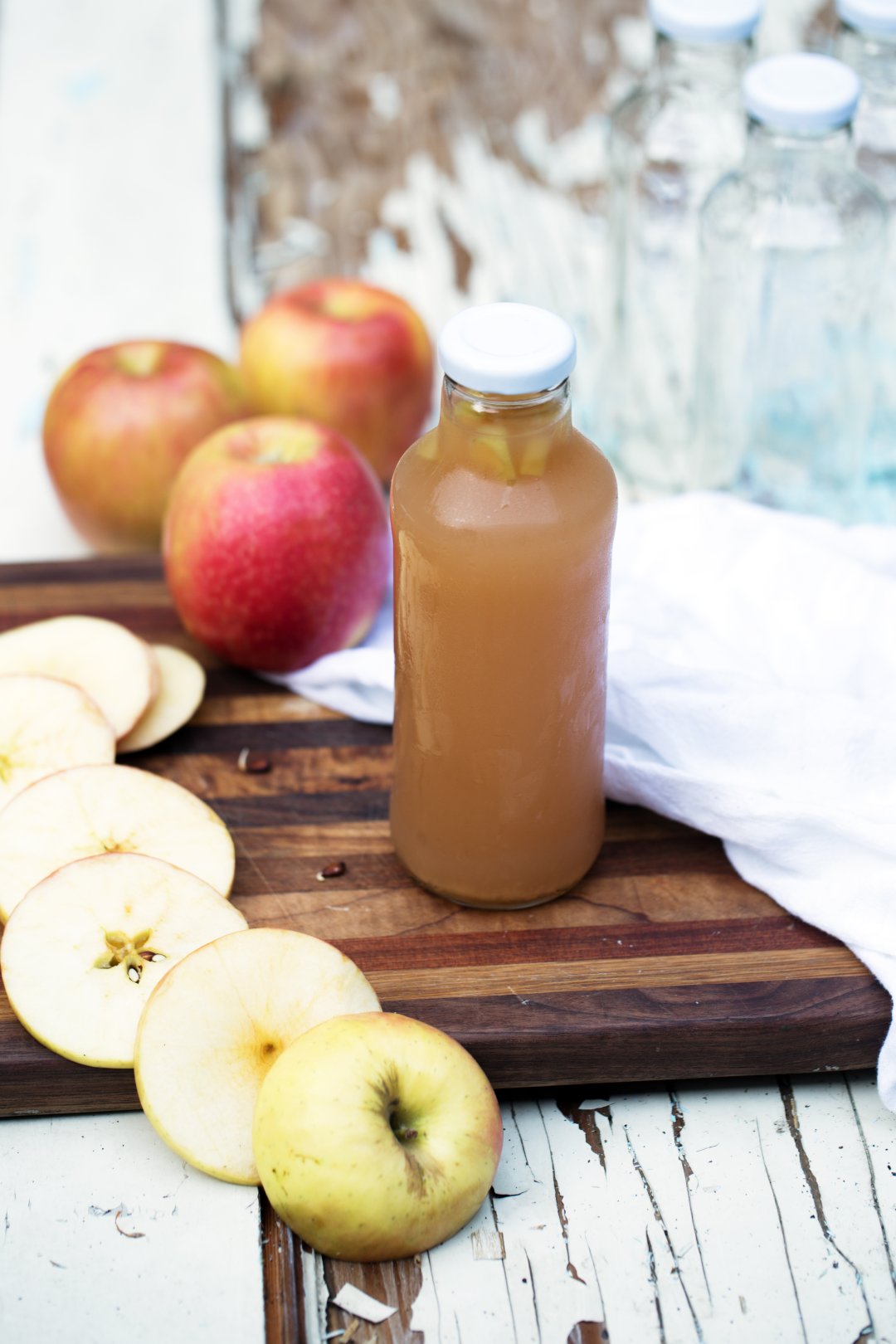 Hover over this image to shop the SKS bottles I used!
Of all the different tea/fruit/herb combinations I have mixed up Pink Lady Apple Kombucha is my favorite. The lightly sweet, tart flavor of the tea is a perfect pair for unfiltered apple cider. A great introduction to kombucha for people who may be a little hesitant to try home-fermented-probiotic-polyphenol-rich-brew.
For Pink Lady Apple Kombucha's second fermentation divide cubed apples among bottles. Add apple cider to fill the bottle no more than 30%. Fill each bottle with plain kombucha leaving very little headspace so that it gets fizzy faster.
While we're on the topic of fizz. Be warned: the more sugar from fruit and juice, the faster the kombucha will fizz up and the greater the risk of explosion. Kombucha bottle explosion is no joke – take it from me. I speak of multiple experiences. Fizz is great but too much fizz is really bad. Good quality containers really reduce the risk, but I have also learned that it is best to store lidded kombucha in a covered box during second fermentation to reduce the damage from exploded kombucha bombs. Labeling the bottles with a Fermented Since date via sticker or chalk marker is also very helpful in preventing over fermentation.
Pink Lady Apple Kombucha
This light and fizzy probiotic rich beverage gets a delicious fruity apple flavor during it's second fermentation.
Total Time
1
day
4
hours
48
minutes
Ingredients
64

oz

plain kombucha

either home brewed or store-bought)

1 1/2

cups

pink lady apples

diced

3

cups

apple cider

unfiltered
Instructions
Divide the chopped apples and cider into 16 ounce lidded bottles ensuring that the total fruit/juice amount does not exceed 30% of the bottle.

Pour plain kombucha to fill leaving very little headspace, so that it gets fizzy as fast as possible. Secure lids.

Let sit at room temperature (70- 85 degrees) for at least 72 hours up to 7 days.

Then store the bottled kombucha in the refrigerator until you are ready to drink.
Recipe Notes
The longer you let the second ferment sit at room temperature the more the vinegar flavor will develop. With increased fermentation you also increase the risk of explosion. Fermenting inside a cardboard box is recommended.
After chilled, serve over ice or use as a mixer for cocktails or mocktails.
The apple flavor pairs well with gin or whiskey or as a substitution for apple cider in cocktail recipes like Harvest Cider Whiskey Spritz. Or to replace cider vinegar in homemade dressings like this Herb Cider Vinaigrette.
I usually experiment with flavors based on what's available seasonally.. In addition to this Pink Lady Apple Kombucha, Strawberry Basil, Blueberry Honey, Lemon Raspberry and Blackberry Mint are all very delicious flavor-mix wins I've had.. Do you make your own kombucha? What are some of your flavor combo wins?? Comment below and let me know! I'd love to try it. 
This post was created in partnership with SKS Bottle and Packaging. Thank you for supporting the brands that support me! SKS Facebook | Twitter | Pinterest | YouTube
pin for later