This shop has been compensated by Collective Bias, Inc. and its advertiser. Product was provided by the client for review; however, all opinions are mine alone. #WorldsSmartestToothbrush #PhilipsSonicare #OprahsFavoriteThings #CollectiveBias
Give the gift of Luxury Self Care with a DIY Gift Basket of long lasting high quality toiletries and personal hygiene essentials.
A basket full of luxury self care essentials makes a lovely gift that the recipient will find useful many years into the future.

Curating gift baskets for presents is such a fun thing to do! And gift baskets are so versatile. Make them for all different people and occasions. Simply choose a theme for your DIY kit, survival kit or care package and find unique, thoughtful gifts to fit it.  Make a DIY Gift Basket for anybody and any occasion!
Long Lasting Personal Care
Investment quality products make lovely gifts in their own right and give a little something else at the same time. These gifts share the appreciation of long lasting over disposable. Items made to work better, longer and save money in the long run. The perfect gift for young adults at the beginning of their adulthood journey.
I received two gifts many years ago that seemed pretty average but have stood the test of time. Personal care products that are a great testament to gifting thoughtful, useful, high quality items. Inspired by these gifts I created this Luxury Self Care Gift Basket.
Superior Toothbrush
My grandparents gave me a Philips Sonicare toothbrush for Christmas one year when I was in my early twenties.  And I have owned only Sonicares in the 15 years since. I didn't fully understand the value of this present at the time. Looking back, though, it's clear that it gave me an appreciation for high quality toothbrushes that will last a lifetime.
The Sonicare DiamondClean Smart 9500 Rechargeable Toothbrush was named one of Oprah's Favorite things in 2017, and I had the chance to try a DiamondClean Smart for myself. Philips Sonicare is the number 1 recommended brand by dental professionals and the Sonicare DiamondClean is Philips' best ever toothbrush for complete oral care.  Making caring for your whole mouth – teeth, gums and tongue – a breeze.
As a Sonicare user for many years, I can tell you the Philips Sonicare DiamondClean Smart 9300 Rechargeable Toothbrush is unlike any other! The Sonicare DiamondClean:
comes completed with a sleek looking glass that doubles as a charging station.
has Smart Sensor technology that connects with the Sonicare app. The app is so cool and has all my kids begging for their Sonicare DiamondClean!  With real-time feedback and personalized coaching, it's basically impossible not to perfect your technique and get a complete clean.
feels soft to the touch – not essential for function, but it sure is nice.
has four high-performance brush heads that automatically select optimal mode and intensity.
comes in so many great looking colors! Currently the Philips Sonicare DiamondClean is available on Amazon with five color options.
Click through the image below to learn more about the Philips Sonicare DiamondClean and try one for yourself!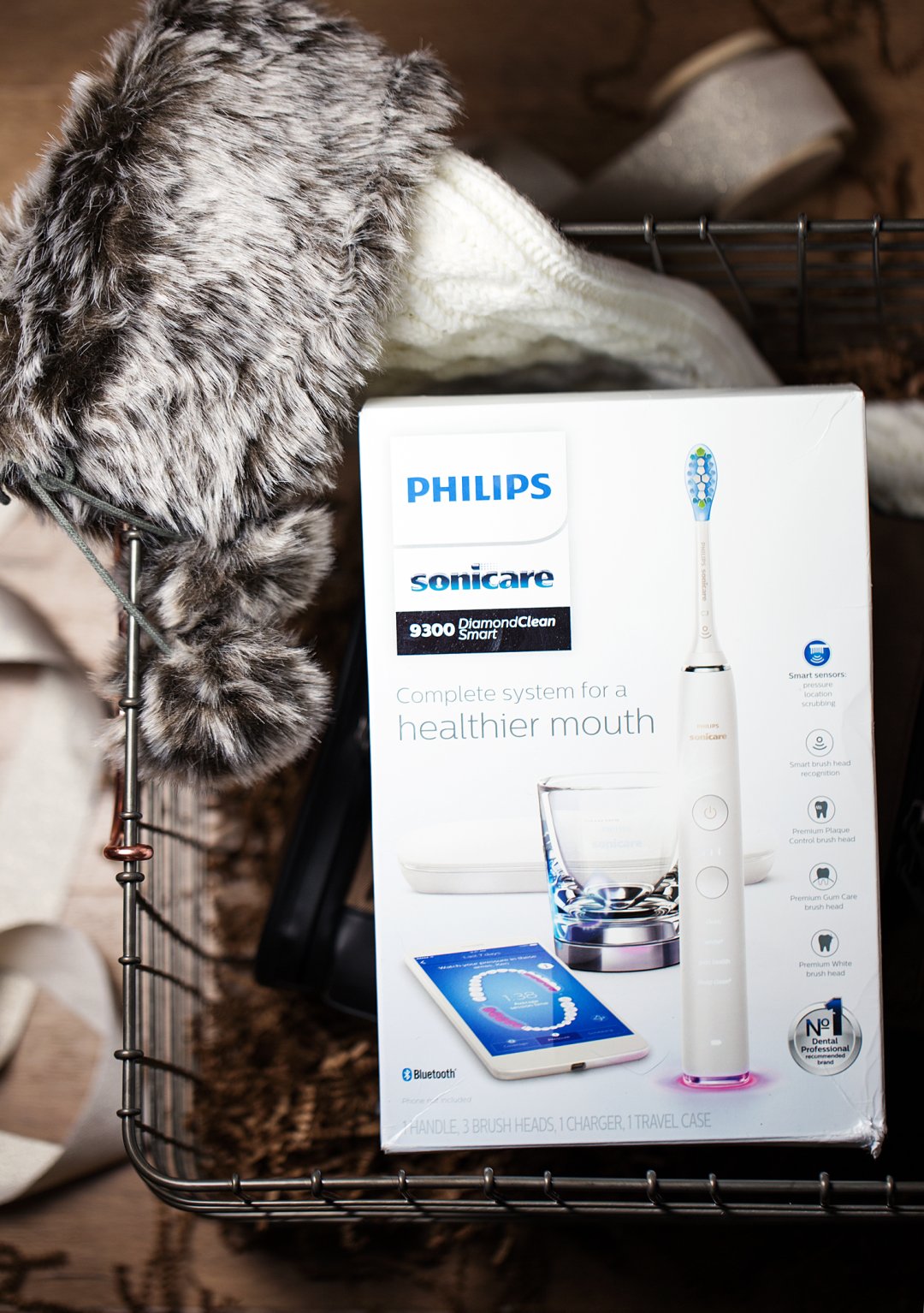 Quality Toiletry Kit
For my high school graduation I was given a large travel toiletry bag. Like the toothbrush the bag's glory is in it's time tested usefulness. That toiletry bag has been with me to Mexico and Disneyland and everywhere in between. To every sleepover, hospital stay and vacation over the last 15 years. The best part is that over that time I've thought of the gift giver every time I open the bag.
The best toiletry bags for travel are large enough to hold all your favorite beauty products. Your toothbrush, makeup, shower supplies and even hair tools should fit without being too cumbersome to travel with. It's a must to have plenty of pockets to keep everything separated.  And bonus points for waterproof material that combats explosions, spills and splashes.
Other Luxury Self Care Additions
To make an even larger DIY gift basket choose any variety of personal care items.
quality hairbrush
sturdy hand mirror
professional grade hair tools –  straightener, curling iron, blowdryer, etc..
small but high quality tools – tweezers, nail clipper, lash curler/comb, etc.
facial roller – jade, rose quartz or other
cooling eye mask and/or neck wrap
long lasting facial products- masks, peels, night creams, etc.
whatever favorite beauty products are a part of your daily self care routine!
DIY Gift Basket Fun
Make it fun! Surprise recipients of all ages with treasures from childhood- a stuffed stocking, Christmas crackers and/or little trinkets just for fun.
A Luxury Self Care DIY Gift Basket is great for giving over the holidays, graduations and birthdays.
What other high quality personal care products have I overlooked? What must have essentials are a part of your daily care routine?
This post created in partnership with Philips Sonicare. Thank you for supporting the brands that support me! Philips Sonicare Facebook | Pinterest | Twitter | YouTube | | Instagram There's Always A Way To Make Life Better
pin for later